STRENGTHENING RELATIONSHIPS WITH THEIR CHARITY
As is the case with most fundraising channels, mail performs best when part of an integrated approach, building value and strengthening the supporter journey. Rather than seeing a piece of mail in isolation, mail will often help keep the message in play – in the 'to do pile', discussed, acted upon – and driving a response. It's a great opportunity to develop the narrative and build engagement, telling a fuller story. This means understanding how people use and engage with it to keep them moving through the mail journey.
"One of mail's powers is that it's a great partner with digital. In fact, our neuroscience research shows mail can enhance the impact of digital when people have seen mail first. It sends people online, and encourages people to grab their phone and engage with the charity further. We're seeing a lot of innovation through the inclusion of technology such as Augmented Reality."
Ian Maynard,
Insight and Planning Director,
Royal Mail MarketReach
UNDERSTANDING THE STAGES OF ENGAGEMENT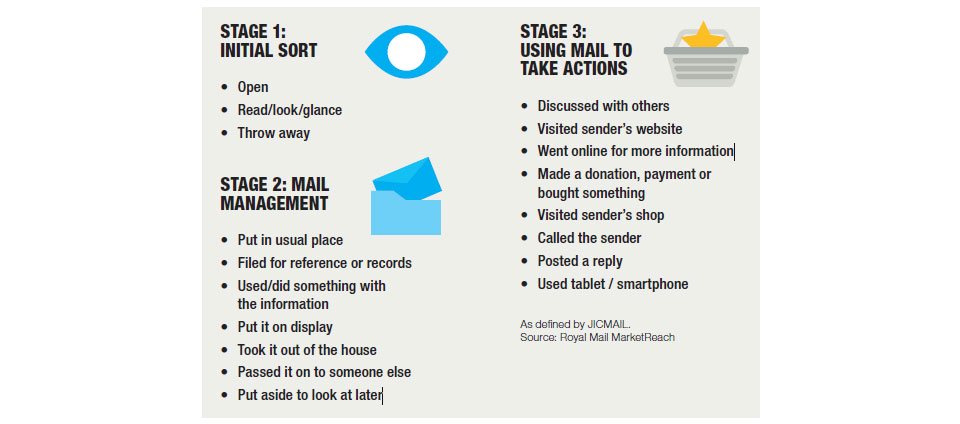 MAIL AS A RELATIONSHIP BUILDER
Mail makes people feel valued. In fact, 70% of people surveyed in 2017 said receiving mail from an organisation helped to build trust.
People recognise the effort and cost that goes into writing to them, particularly when it is personalised. Thanking someone for their support and telling them precisely what their donation has helped to achieve makes them feel appreciated and part of the story, deepening the supporter relationship.
CASE STUDY: ACTION AID'S POSTCARD – SONALI'S STORY
To update supporters on the charity's work to end violence against women and girls, and to inspire in them a sense of pride over their donations to the cause, Action Aid sent out personalised thank you postcards to its regular donors. Featuring a captivating photo and telling the story of Sonali, who had been injured in an acid attack as a young child, the postcard was a cost-effective, simple and yet powerful way to showcase the charity's work. The card was easy to share or put up on the fridge or noticeboard. It conveyed both thanks and recognition without making any additional financial ask. For supporters that wanted to know more, Sonali's story was continued in an online blog at www.actionaid.org.uk.
10 TOP REASONS FOR USING MAIL
1. PERSONALISATION - The ability to personalise and tailor mail helps to bring recipients closer to the charity and cause.
2. LONGEVITY - As a physical item, people tend to hold onto mail longer, to look at it more than once, reminded by its presence to act.
3. SHAREABILITY - It's easy to share and by arriving at someone's home is likely to be seen by more than the recipient alone.
4. STORYTELLING - Mail provides the space to tell and illustrate a story well, helping to communicate impact and build engagement.
5. RELATIONSHIP BUILDING - The public recognise the effort and cost that goes into writing and sending mail, helping communicate that they are valued by the charity.
6. CONTROL - People can choose what they receive by mail and when to look at it, increasing their receptivity to charity communications.
7. INTEGRATION - It gives charities the ability to reach out to people who may have seen a campaign elsewhere to continue or expand the story (pairing particularly well with TV and digital).
8. IN THE HOME - Mail is unique; the only channel that will transport a physical item directly into people's homes.
9. VERSATILITY - Whether charities choose to send leaflets or welcome packs, newsletters or thank you cards, mail is versatile, enabling charities to communicate their message in their own way.
10. DRIVING RESPONSE - Mail adds value, particularly as part of an integrated approach, increasing ROI
To be continued - Source Credit: Royal Mail PDF - THE POWER OF MAIL FOR CHARITY FUNDRAISING - A GUIDE FOR FUNDRAISERS.