WHAT IS THE DIFFERENCE BETWEEN DIGITAL AND TRADITIONAL MARKETING?
Digital Marketing uses the internet, ie websites and social media as a communication tool. While traditional marketing is the 'original' form of marketing and uses tools such as printed media, TV ads and billboards.
These two forms of marketing can happily coexist and complement each other.

TRADITIONAL MARKETING: This was really the only type of marketing, up until the invention and development of the internet in the 1990s.
While magazines and newspapers are moving online, there is still a large percentage of us who prefer the physical item. For those of us who already spend a lot of time on our smartphones/tablets and PCs – reading printed media provides a welcome break. And there is nothing quite like purchasing a real newspaper on a Sunday, unfurling the pages and unpacking the supplements is a weekly ritual.
TV commercials have long been a successful form of marketing and some of the better ones become part of popular culture. Think of all the adverts you can literally quote from - that were on TV during your formative years – these will have given you a lasting impression of the product that they were advertising. TV commercials also cross over to digital channels.
DIGITAL MARKETING: Today digital marketing is as equally important as the traditional, and among those who regularly use smartphones/tablets and PCs – perhaps even more so. Some of us use our digital devices so often, that many choose to monitor and limit the amount of screen time that we are using - in an attempt to draw us back into the real world. Here is a captive audience. And there are a lot of us.
Thanks to the cookies – any product that you search online is logged and these adverts (together with similar products you might be interested in) will repeatedly crop up across the multiple platforms that you use.
WHICH TYPE OF MARKETING IS BEST FOR YOUR BUSINESS?
Your ideal marketing campaign will have the perfect balance between traditional and digital marketing. You will want to reach as large an audience as possible: so, place your ads as people scroll through social media, but remind them again when they are flicking through a magazine. Advertise outside on buses and billboards and then send a carefully crafted email. If your budget stretches to a commercial – then remind them again during Gogglebox.
Digital marketing has just increased the ways in which you can reach your audience, but it is in no way replacing traditional marketing.
TRADITIONAL MARKETING: PROS & CONS
PROS:
With a memorable image and/or tagline: a billboard, printed image or TV commercial is easy to understand and impactful. It should also appear regularly as part of people's everyday lives.
The printed image is more permanent: An advert in a magazine has the possibility to reach its audience until it is recycled. Or if it appears in a publication that encourages collectors – it could live forever.
Real life is still more memorable: Just about! A creative window display in Selfridges will stay in your mind longer than a Facebook ad.
CONS:
More expensive: Advertising space in popular magazines and making a TV commercial are still some of the most expensive forms of marketing.
No direct interaction with your potential customers: Unless people discuss it on social media – it is a one-way conversation - and you don't know how your audience is responding to it.
More difficult to measure the effectiveness of a campaign: There are such things as brand trackers to measure traditional marketing, but they are not as refined as the tools used for digital marketing.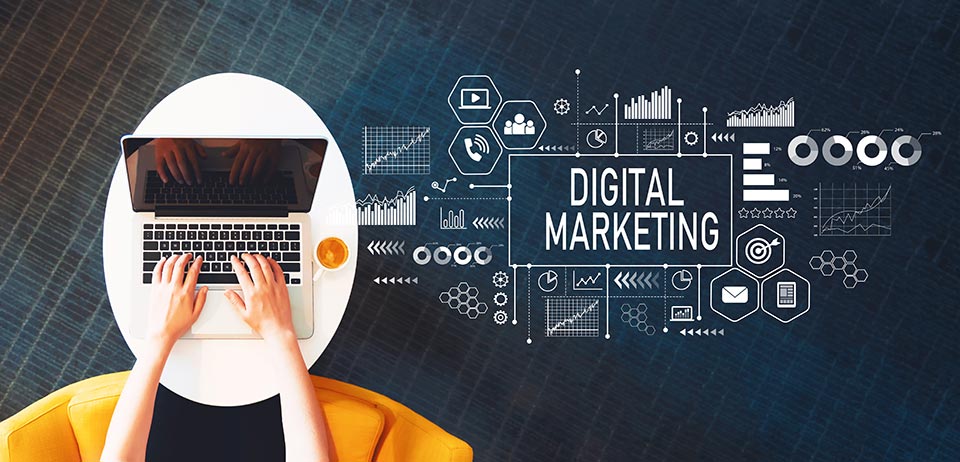 DIGITAL MARKETING: PROS & CONS:
PROS:
Improved ways to engage: Social media allows you to see what your audience think of you and your campaign. If a post has been liked, shared and has received lots of positive comments – then this is considered a success.
Measuring the effectiveness of a campaign is easier with digital marketing tracking tools.
If you want to target a specific type of person, the information collected via digital marketing will allow you to reach them.
CONS:
You can overdo the digital ads: Too many can be annoying. And you also don't want to be reminded of all your purchases all of the time. You may be in your 30s, have bought a back pillow and are now receiving lots of adverts that typically target those who are of retirement age.
Digital ads flutter in and out of your consciousness. They have a very temporary existence and are therefore more easily ignored. The trick is to be so memorable and know your target audience – who will find the advert less easy to ignore.
Digital marketing is constantly moving. There is a lot for you to learn, and it is preferable (though more costly) to employ a specialist for each channel – from search engine to social media marketing.
Data Processing Solutions
Daily Transactional Mailing Service
Direct Mail Marketing
Complete Print & Mailing Solution
Fulfilment & Mailing
Postal Advice
Latest Posts