UNDERSTANDING MAIL
Mail can encompass a wide array of products and campaign messaging. With three different types of mail – addressed (direct mail), unaddressed and the newer option of 'partially addressed' mail, it's helpful to have a clear understanding of how each one can work for charities.
DIRECT MAIL
Direct mail (addressed to an individual's name and residence) is widely used by charities when communicating with current and potential supporters. This might include welcoming them on board, thanking them, updating them with the charity's progress, issuing newsletters, inviting them to participate in other activities and events, or asking for support.
With the ability to personalise and tailor mail for the recipient, addressed mail requires good data management. It may come at a greater cost (including staff time and fulfilment), but it usually achieves higher response rates.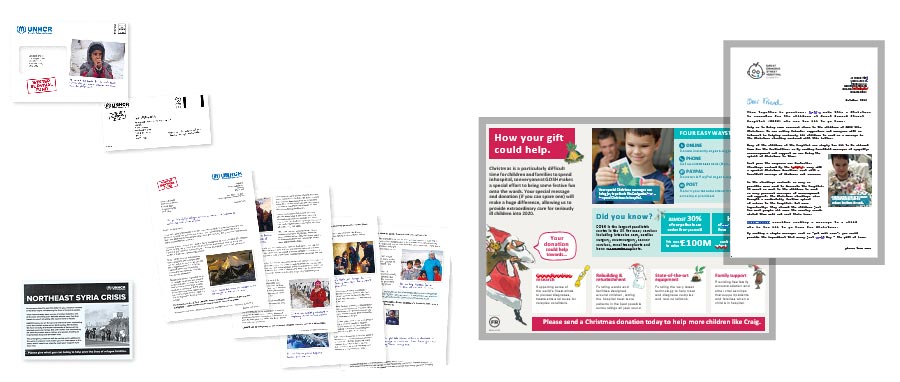 PARTIALLY ADDRESSED MAIL
In recent years, partially addressed mail has been introduced to offer tighter targeting than is possible through unaddressed mail, but without requiring the recipient's personal data. These campaigns are directed at households by postcode, each of which typically reaches around 15 homes. Because they are targeted by postcode and not name, the letters often have a shared salutation where a name would appear, such as: "Dear dog lover".
This works well for charities with clearly identifiable target audiences and can also enable them to omit households that are already on their database. As with unaddressed mail, postcodes can be tested and ranked, and lookalike postcode profiles identified to achieve the optimum targeting.
UNADDRESSED MAIL
Unaddressed mail or 'door drops' have the ability to reach almost 30 million households in the UK, targeting by postcode sector, which omits the final two characters of a postcode (e.g. LS8 4). Because they don't require or feature the recipient's name and address, unaddressed mail doesn't need to use personal data.
Each postcode sector covers around 2,500 households. Geodemographic data can be used to determine the general profile of a particular sector, which can then be ranked for their potential (by average response rate and other factors). This approach can be useful for targeting specific audience types, urban or rural areas, and to locate people living in close proximity to a charity or fundraising event.

CASE STUDY: MARIE CURIE – THE GREAT DAFFODIL APPEAL
The Great Daffodil Appeal is Marie Curie's largest annual fundraising campaign with mail accounting for a significant proportion of the total income. Launching in the lead up to Spring, it's a vital time of year for recruiting new supporters, as well as mobilising and stewarding the most loyal supporters. The appeal includes direct mail to existing supporters, along with cold direct mail, partially addressed, and door drops, totalling well over a million packs.
In recent years, recruitment packs have followed the same refined creative and design, featuring the ever-popular Nurse Alma, while the warm case study is updated each year. Campaign mailings are all incentivised, including the Marie Curie daffodil pin, a postcard, notelet and gift stickers. Issuing the mailing in mid-February allows for the spread of daffodils to begin, before wider activity kicks off throughout March.
"We are fortunate to have a strong, recognised brand, particularly at this time of year, and a healthy mailing pool for continuous testing and learning. Direct mail appeals provide supporters with an easy, convenient way to donate and a cost-effective way to raise much needed funds from a wide and diverse audience. We rely on a very responsive, core group of supporters, so mailings remain a pivotal part of our fundraising mix at Marie Curie."
Michelle Golding ,
Appeals and Mid-Value Development Manager,
Marie Curie
To be continued - Source Credit: Royal Mail PDF - THE POWER OF MAIL FOR CHARITY FUNDRAISING - A GUIDE FOR FUNDRAISERS.